At the Scrum Gathering Berlin 2014, coaches Bent Myllerup and Andrea Tomasini, facilitated a workshop called "Effectively coaching agile teams"
Andrea Tomasini
I am an Agile Coach and Trainer and I am helping customers all around the world to become more Agile. I am more and more keen on adopting adaptive emergent approaches to improve people's quality of life. Through an holistic and pragmatic approach - I consider Lean and Agile very powerful frameworks - it is possible to improve results, performance and also personal satisfaction.
Bent Myllerup
People, and helping people to success is the most important matter to me. I think that agile is a great platform to achieve this - that is why I became a coach. I am a member of the agile42 coach team, based in Denmark, and as a CSC and CST I coach and train people in Scrum and agile approaches. I coach from systemic principles and have the quest of bringing agile to embedded product development.
On

In

Tags
The goal of the workshop was introducing attendees to a more structured approach to coaching teams, which uses a framework developed by agile42, called the Coaching Structure. More information about out approach and workshop material can be downloaded for free.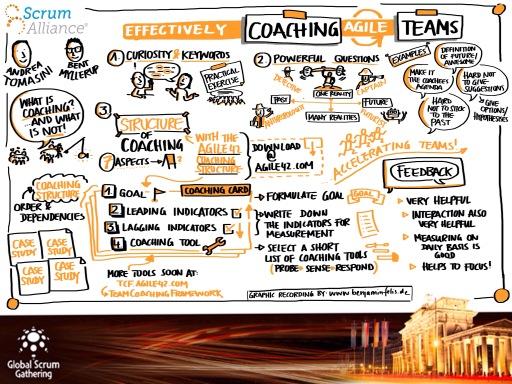 The first part of the workshop focused on understanding what is coaching and what is not… and developed introducing the concept of keywords, and curiosity when listening to a person during a coaching conversation. We didn't have the time to go through level of listening, but we moved on to presenting a strategy to create Powerful Questions, based on ...