Advanced Team Coaching Course
The Next Logical Step After Your ScrumMaster Education
The Advanced Team Coaching Course is for ScrumMasters, Team Coaches and others who wants to take their skills, knowledge and abilities for coaching and facilitating teams to a professional level beyond the basics. (This training is part of the agile42 Coach the Coach Program and the Team Coaching Framework™)
What you will learn
In this course you will learn about team theories. You will be introduced to a variety of tools, which you will have the chance to practice, learn coaching approaches and use them the way professional coaches do. You will also learn how to set up a team coaching structure that helps you and your teams achieve the goals you set.
The Advanced Team Coaching Course comes in two editions: The Enterprise Edition, which is targeted at companies that currently are doing a transition with agile42 coaches, and the Open Edition, which is targeted at individuals attending a public class.
You will be able to claim a total of 42 SEUs towards the Scrum Alliance Certified Scrum Professional (CSP) certification by following all activities of the course: 8 SEUs for each one of the 3 training days and the 2 workshop days, plus 2 SEUs for two hours of 1:1 with a coach. It is a solid preparation before applying for the higher certifications of Certified Team Coach (CTC) and Certified Enterprise Coach (CEC).
The first Advanced Team Coaching Course Open Edition started March 2015 in Berlin and the first coaches have received their certificate of participation in May. In 2016 further classes have been held in Germany and South Africa. We are now expanding to four locations for 2017, with the target of adding more. Please contact us if you need more information about future opportunities.

---
The course is held over a time period of six to eight weeks, accommodating the other activities in the company. It consists of five scheduled class days plus two times one-on-one coaching conversations and activities in learning groups. The 5-day-course includes three days of training (day 1, 2 and 4) and two workshop days (day 3 and 5). All classes are taught in English and, subject to availability, after the first block of class days students can complete the rest of the training at a different time and location according to their needs.
Part 1: Training
The focus of the first day is mainly on Personal Coaching techniques and the understanding of Systemic Coaching. The Goal is to expose people to the difference between "coaching" a sport team and coaching individuals by helping them to unlock their potential and achieve their own goals.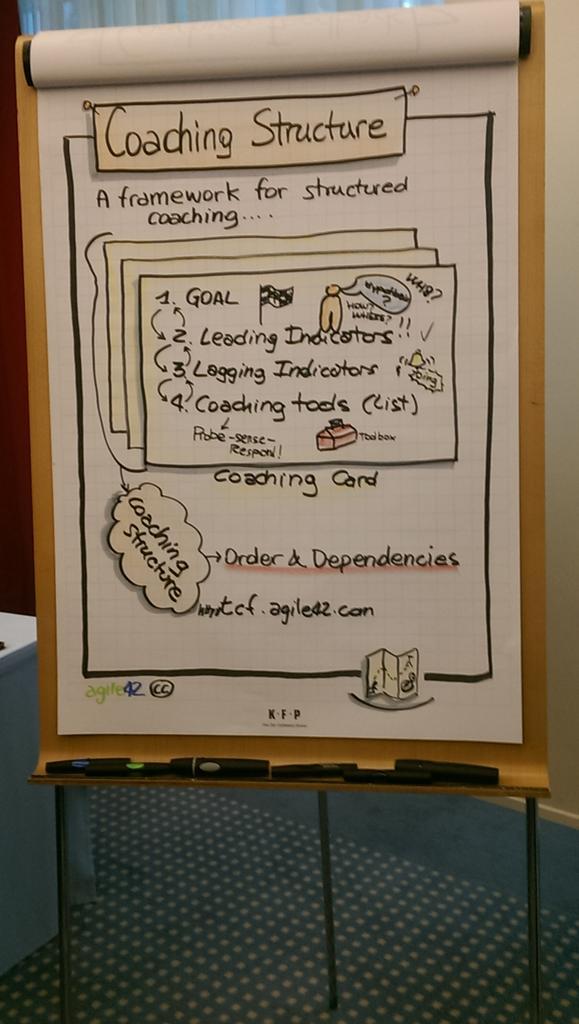 The focus of the second day is on understanding the foundation of a Team, and realizing how many more factors we have to consider when coaching teams; most of those factors are not under our control but we can influence the environment in which the teams are working, so that they will be able to change most of the constraint, if really empowered to do so. The rest of the days focuses on introducing the idea of Facilitation as a more structured and comprehensive matter than just running stand-ups.
Team performance models
Observation techniques
Facilitation techniques
Using curiosity and keywords in a coaching conversation
Levels of listening
How to structure a coaching conversation
Strategies to form powerful questions
Facilitation of problem solving
By the end of the two days, you will build your own coaching structure that you will go and use with your team in weeks until the next training days.
Part 2: Practice
During the period of time between day 2 and day 3, you will practice what you have learned, share knowledge with your peers in learning groups and revise your coaching structure based on your learnings. You will also have a one-on-one coaching conversation with one of the agile42 coaches that are coaching your company during the transition. The purpose of this conversation is to provide you with as much help as possible to develop as an agile coach. The agile42 coaches will of course also give you on-the-job coaching when needed.
We encourage you to video record your self in some of the coaching you are doing in this period of time to help you observe your own practice and learn from that. It is optional for you to share this with anyone.
Part 3: Workshop
Day 3 is a workshop day, where we reflect on the learnings and expand and practice on the things you and your peers found challenging.
On day 4 we add more new tools to your tool box. Those include:
Visual Management
Conflict resolution
Non-violent communication
Motivation of teams
Bridging questions for team coaching
The 5D team coaching approach
Team building techniques
We end day 4 by setting learning objectives for the coming period of time.
Part 4: Practice
In the period of time between day 4 and day 5, you will again practice all you learned, meet with your peers for sharing experiences and have a one-on-one coaching conversation with an agile42 coach.
Part 5: Workshop 
Final workshop for sharing experience and new ideas, as well as providing some further advise about coaching. Particularly we will focus on the importance of the awareness of the coaching role, and they way one can related to coaching conversation and understanding how to use facilitation skills to drive a session toward its goal.
---
Facts: 
8-10 People 
2 Trainer/Coaches
5 Days
Offsite support and Interview