Effectively Coaching Agile Teams at Scrum Gathering Berlin
The goal of the workshop was introducing attendees to a more structured approach to coaching teams, which uses a framework developed by agile42, called the Coaching Structure. More information about out approach and Workshop material from Scrum Gathering Berlin can be downloaded for free.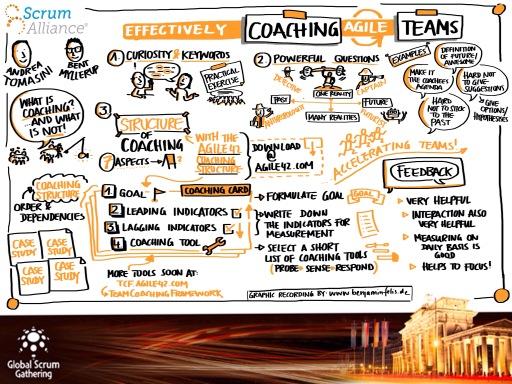 The first part of the workshop focused on understanding what is coaching and what is not… and developed introducing the concept of keywords, and curiosity when listening to a person during a coaching conversation. We didn't have the time to go through level of listening, but we moved on to presenting a strategy to create Powerful Questions, based on Karl Tomm approach. Participants engaged in one on one conversation, practicing the usage of powerful questions, using some cheat-cards as guidance, but very soon turning in to a very personalized way. This natural step happens thanks to the fact that participants learned a strategy to formulate questions, and weren't exposed to a list of pre-baked questions, allowing them to use their own style and make the conversation more natural, and fluid.
The last step has been introducing the coaching structure as a tool to enable a more structured approach to team coaching. The first step is to create one Coaching Card. By focusing on observing a behavior, formulating hypothesis as of why that behavior is happening, and based on those, formulate a behavioral goal, that you want your team to achieve. Once that is done, you start identifying leading and lagging indicators, that would tell you if the team is moving toward the right direction.
The final step is to identify what are the coaching tools that as a coach you would use, to facilitate the team's learning and accelerate the team's improvement. Now in order to shorten the list of possible coaching tools, you would use first some intuition and experience, and ultimately, by experimenting multiple tools in parallels, and by measuring their effectiveness using the leading indicators. In this way you'll be able to learn from emerging behavior, and decide to dump one tool or another, and even find out something completely new! By managing the boundaries with Leading Indicators and tools, you will be able to provide the team with stimulations that will encourage evolution and improvement. Co-evolving the coaching cards, by observing the team behaviors and the leading and lagging indicators.
You can find all the material of the workshop, and also the awesome graphic recording of the workshop in the following video.
The content of the workshop was a small portion of our Advanced Team Coaching Training program, that is going to start as public training at the beginning of next year…
Thanks for the great contribution and the awesome feedback! The ROTI tells it all 🙂